Half Day Package is THREE HOURS of blissful pampering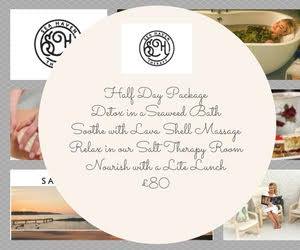 Sea Haven Therapy's Half Day Package is THREE HOURS of blissful pampering including a light lunch! No wonder it's so popular with our clients!
It contains:
A Seaweed Bath Experience: Start your experience in our steam cabinet for approximately 5-10 minutes to open your pores to aid absorption of the many minerals and vitamins of the seaweed. Then immerse yourself in a seaweed bath and relax while enjoying your choice of music and our North Coast views.
Lava Shell Full Body Massage: Feel soothed as the warm polished marine sea shells glide smoothly over your body, you will instantly drift into a blanket of warmth, falling into a state of utter relaxation and calm. The shells are worked over the palms of the hands, arms, neck and shoulder with the focus of the massage on relaxation. Deep tissue work on tension areas such as legs, back and shoulders helps ease away muscle tension knots and stress. Blocked energy is released providing a sense of balance to the entire body and mind.
A Salt Therapy Session (30mins): Relax in our salt therapy room which, through use of a dry salt aerosol halogenator combined with natural salt covering the walls and floors, mimics the micro-climate of a natural salt cave helping to treat respiratory and skin conditions.
Followed by a light lunch. Priced at £80 per person.
To book, call 028 2076 1132 or email: enquiries@seahaventherapy.com
Gift vouchers are available in the spa or here: https://seahaventherapy.com/product/gift-vouchers/